Austin, TX – September 14-15, 2022
Datacloud USA is the newest event of its kind for the US data infrastructure market: connecting decision makers from across data center, cloud, edge, HPC, content, big tech as well as regional and international enterprise. The two-day event will introduce brand new networking opportunities to get in front of the right companies, and offer exclusive thought-leadership.
---
---
Josh values approachability, accessibility, collaboration, innovation and growth. These qualities guided Josh's leadership in the interconnection industry over the last 20 years and building over $10B of value along the way. He has pretty much seen and done it all through key founding and executive positions at Terremark, Verizon (NYSE: VZ), Cincinnati Bell, and CyrusOne (Nasdaq: CONE). Josh founded the Global Peering Forum, the annual meeting for the Internet interconnection and peering community where he serves on the board of directors. Josh serves on the advisory board of Telescent, the finest automated interconnection machine on the planet. He is an avid speaker at conferences globally including networking, data centers, real estate, edge networking, and quantum computing. He has been a surfer for 39 years and a snowboarder for 25 years, traveling the globe in pursuit of experiences. Josh loves cars and racing. He founded TrackRats, LLC, the premier car club for track enthusiasts.
Auto racing enthusiast. Industry leader and innovator. Surfer and snowboarder. Peering expert. Public speaker. Founder and CEO of Quantum Loophole.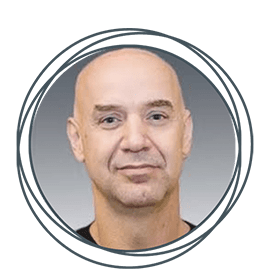 Scott believes that the only place for a rebel is a revolution. At Quantum Loophole, Scott serves on the front lines of the Decarbonization Revolution. His mission is to help enable next-generation data centers that autonomously orchestrate supply and demand between clean energy and cloud computing resources. His intention: Better, faster, cleaner and cheaper– pick four. A former mercenary in the Cloud Revolution, Scott served as VP of Operations at Yahoo! and Head of Global Infrastructure at Apple. He led deployment and operation of two of the world's largest clouds, driving innovation in the data center and distributed compute space. In backing the Clean Energy Revolution, data centers are breaking away from their dirty energy-hog past. Scott served as CEO and Founder of Litbit, and earlier grew a small underground bulletin board (bbs) into a sizable Internet Service Provider (ISP.) Scott likes to brag about creating one of the world's first Voice over IP (VOIP) companies, learning that being first isn't always worth bragging about. A wise person once said that "rebels die." Scott's been working to prove that wrong ever since.
Technology rebel. Challenging the status quo. Green and clean advocate. Transformation revolutionary. CTO of Quantum Loophole.
---